House Clean Out Services in Miami
Top-Grade House Clean Out Services in Miami, FL
The high speed at which junk can accumulate in your Miami home when your schedule is consistently busy can be shocking. With a cluttered home comes a cluttered mind, and you can become overwhelmed way easier and faster by living in a congested space. Tackling your own at-home clean out not only takes heaps of energy, but also lots of time. At HSDO Pros Junk Removal, we're here to help you de-stress my addressing your mess! With our full-service team, you won't have to waste a second on your house clean out. Just ring our line and we'll be happy to work around your schedule, needs, and location!
Thanks to our competitive, volume-based pricing, our house clean out services in Miami, FL come at a fair cost! In getting ready for a house clean out, our team just needs to get an idea of how much junk you need gone. From there, they can give you an upfront service estimate at no charge. As a local business, we'll save you from anxiety-inducing add-on fees typical from other junk removal chains!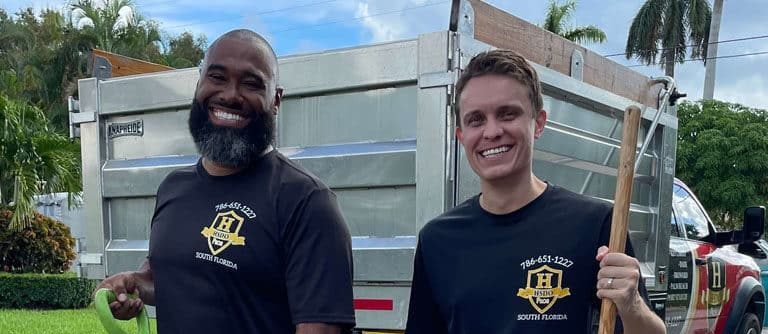 Why Us for House Clean Out Services?
HSDO Pros Junk Removal is among the best companies that clean out homes because our team of hard-working experts always puts you first. We're more than qualified in all we offer and gladly customize our services to fit our customers' ever-changing needs! With our 24/7 availability, our team can also get to your house clean out services in Miami, FL faster than any other can.
Our company takes clean out services to the next level by advocating for eco-friendly waste disposal methods! Any recyclable items, from appliances to construction debris, always get repurposed with us. We also work with donation centers in Miami-Dade County and Broward County because we believe that one man's junk is another's treasure. By donating and recycling your junk locally, we give your junk a new purpose while protecting the environment!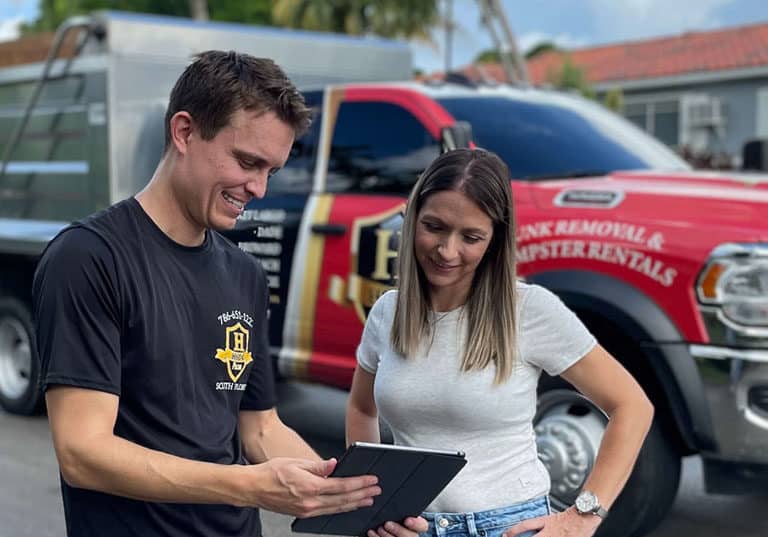 Our Home Clean Out Process
You can easily schedule our house clean out services in Miami, FL by booking online or calling our office.
Shortly after you book your appointment, we'll contact you to get an idea of your junk volume. This way, we can give you an accurate service estimate!
When it's time for your appointment, our crew will arrive right on schedule.
Show the crew what needs to go, and they'll give you an all-inclusive quote at no cost!
Once you approve our quote, haulers can start your clean out! They'll work together to get it done quickly while you get to relax.
Old Furniture Removal in Miami
During house clean outs, customers often request furniture removal. Whether a resident is moving out or just updating furniture, tackling their own old furniture removal is difficult enough. Add the challenge of finding a furniture disposal site to the dangerous, health-risking labor of furniture hauling, and you've got a largely stressful job on your hands. Companies like HSDO Pros Junk Removal, though, streamline the process so it's painless! When you book us, you can relax as your old, worn-out furniture gets hauled out of your home safely. On top of that, our donation and recycling policy gives your old sofa, bed, or wardrobe a shot at a new life!
First, our team will use utilize equipment to move heavy furniture out your home. They'll then load it all up into our trucks, and if possible, head to a nearby donation center. Our top choice for disposal is always donation, but this is only fair for items we deem in working order. On the other hand, damaged and broken furniture pieces get recycled with us. HSDO Pros Junk Removal works with transfer stations that accept furniture along our service areas in an effort to keep your junk out of landfills! At these recycling centers, workers use their machinery to tear apart different materials making up your furniture. From there, different contents such as wood, fabrics, and metal are separated, set aside, and handled accordingly.
About Us
HSDO Pros Junk Removal is a local, family-owned junk removal business where its quality speaks for itself. On account of our extensive junk removal know-how, 24/7 availability, and full-service crew, we're your best option for affordable house clean out services in Miami, FL. Our friendly team is ready to get started on your home clean out today, however big or small, so call us!
Our company differentiates itself from others because of its eco-friendly junk disposal policy. We make it a key goal to donate any junk possible during clean outs, but also participate in recycling and other responsible disposal practices. It is our understanding that the more junk we keep out of Miami landfills, the closer we get to living a sustainable and junk-free life! In turn, these mindful practices pave the way for cleaner, healthier, and more beautiful communities.
What Are You
Looking For?