Storage Unit Clean Outs in Miami, FL
Reliable Storage Cleanout on Your Terms
When it's time to tackle Miami clean out projects like storage unit junk removal, you're best off contacting HSDO Pros for a storage unit clean out service. With an insured, full-service crew beyond qualified for storage unit clean outs in Miami, FL, your storage unit will be free of junk in no time, without the extra effort! That's right– while we handle your service, you can relax and destress or even hit the Miami Boardwalk. Just leave all the heavy lifting, removal, and disposal to us!
You may be wondering if we'll take the kinds of junk collecting dust in your storage unit. Good news– our team accepts a wide range of junk in all our provided services! Whether you have bulky appliances, outdated electronics, or general waste, we're happy to take it off your hands.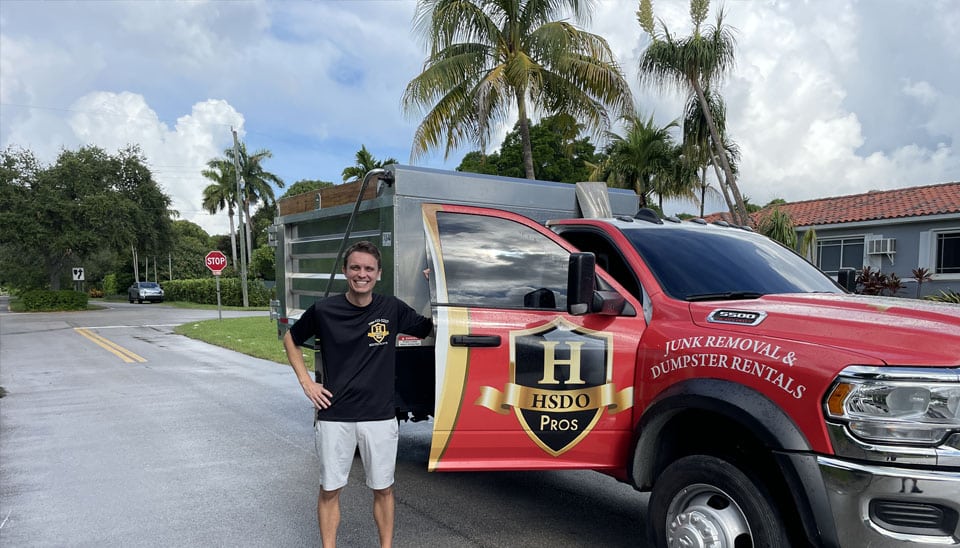 Why Us for Storage Unit Clean Outs?
HSDO Pros Junk Removal is among the top companies that clean out storage units near you! That's because our local company keeps storage unit clean outs in Miami, FL efficient, affordable, and eco-friendly. With flexible availability 7 days a week, we cater to your needs and one-of-a-kind circumstances, even on a moment's notice!
With us, your storage unit clean out cost will be solely based on your volume of junk, without the hidden fees! At your appointment, just show us what you need gone so that haulers can give you a firm, accurate quote. Just accept our quote, and we can immediately begin your cleanout! Once we're all finished cleaning up your storage unit, we'll dispose of everything properly, donating and recycling what we can.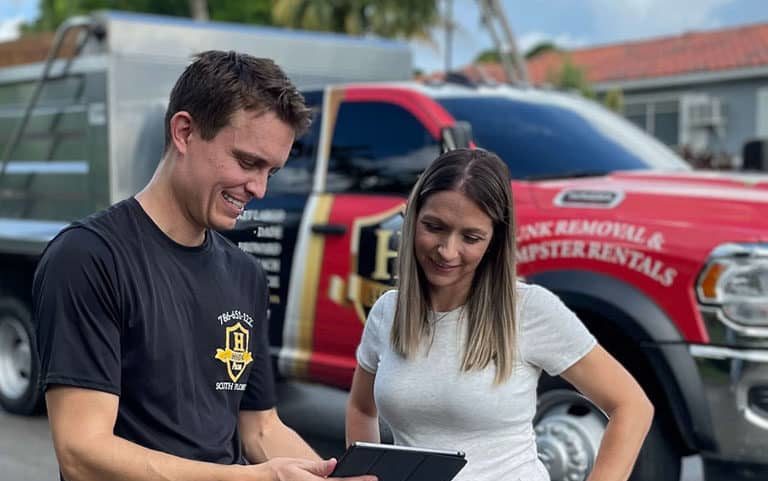 The Process
To schedule your appointment, click here or give us a call as soon as possible!
Next, you can expect to hear from us to confirm your appointment and notify you that our crew is on the way to you.
Once haulers arrive, just point them in the direction of your junk needing removal. That way, they can present your free quote!
Finally, approve your quote with our team so that they can begin your storage unit clean out.
Old Furniture Removal in Miami, FL
Got old, forgotten furniture pieces in your storage unit that you need cleared out? That won't be a problem with our crew. At your appointment, they'll come with all the necessary tools to get your kitchen, dining, living, or bedroom furniture removed and loaded onto our trucks safely. Once that's done, they'll make sure all your other unwanted storage junk is out of your space before sweeping up. And finally, the last step of our storage unit clean outs in Miami, FL is safe and responsible disposal!
When handling your furniture, our crew will decide if it is fit to be donated. Our company makes it a goal to donate as much as we can, but keep in mind drop-off centers have standards and rules on what they accept. If your furniture is damaged or overused, haulers will see what they can do to recycle it nearby. If there's a furniture recycling center near you, our crew will head there to drop off your old furniture. From there, on-site employees would bring the items into the proper workspace and prepare them to be broken down. By cutting furniture into smaller sections and separating different contents, the recycling of the materials is possible! In the end, any wood, metal, plastics, or other recyclables making up your furniture will be reuse-ready.
About Us
At HSDO Pros Junk Removal, we're a pack of pleasant junk removal experts who thrive on serving you. Our crew has the right experience and attitude to ensure complete satisfaction with their work. As a locally-owned company, we offer a stress-free experience where you're always the top priority. On top of flexing our services to fit you, we get the job done fast, right, and at a friendly price! That's what makes us the best company for storage unit clean outs in Miami, FL. 
Our company takes junk removal above and beyond by avidly practicing eco-friendly disposal. Instead of taking shortcuts with your junk disposal, we do our best to repurpose and reuse as much as we can! We make this possible by partnering with local charities in our service areas to give back your goods. Of course, our team is knowledgeable in recycling too, and we practice it everyday. At the end of your service, it's our goal to recycle and donate the majority of your load!
Have any questions about our services or locations we cover? Don't hesitate to give us a call! Alternatively, you can contact us online with any inquires.
What Are You
Looking For?