Junk Removal Services in Fort Lauderdale, FL
JUNK REMOVAL SERVICES IN FORT LAUDERDALE, FL
Have you ever thought about all the places you can find junk in Fort Lauderdale, FL? There are many neighborhoods, such as Coral Ridge and Victoria Park, where lots of people live. Each of these people probably has a basement, a garage, or at least a closet that's filled with clutter. Of course, there are also many commercial spaces in Fort Lauderdale—offices, retail outlets, restaurants, and more—that generate junk. Sometimes, a yacht party can even generate junk, such as a mountain of beer cans. Someone has to deal with all this junk. That's why HSDO Pros Junk Removal offers junk removal services in Fort Lauderdale, FL!
Regardless of who you are, we're here to help. Our professional team proudly assists residents, business owners, landlords, property managers, and more when they have junk that has to go. What's more, we're dedicated to giving our customers fast service exactly when they need it. Contact us today to ask about our same-day and next-day availability!
Why HSDO Pros?
HSDO Pros Junk Removal is serious about providing our customers with a fantastic junk removal experience they'll want to tell their friends and family about! When you choose us, you're supporting a small business that is locally owned and operated in your community. We're near Fort Lauderdale, so count on us to be there on time with an empty truck that's ready to be filled with your junk. Speaking of which, we can haul just about anything you have for us. What do you want us to take? Clothing and toys? Electronics and TVs? Old decorations, cardboard boxes, and scrap metal? Yes, we will remove all of these items for you—and more!
Our services are more convenient than DIY junk removal because who wants to do the work on their own? Additionally, you'll find that we don't have the endless restrictions that public trash pickup services have. We can handle those big loads of junk that the city rejects on garbage day. You better believe our truck has enough room, and what's more, our team has the energy to power through even the largest junk removal projects, too. That's why our junk removal services in Fort Lauderdale, FL are the best available!
We are prepared to serve residents, business owners, landlords, and more! Whoever you are, all you have to do is contact us to let us know you'd like an appointment. But how should you get in touch? If you like using your computer, try contacting us online. Or, if you prefer making phone calls, give us a shout at 786-651-1227.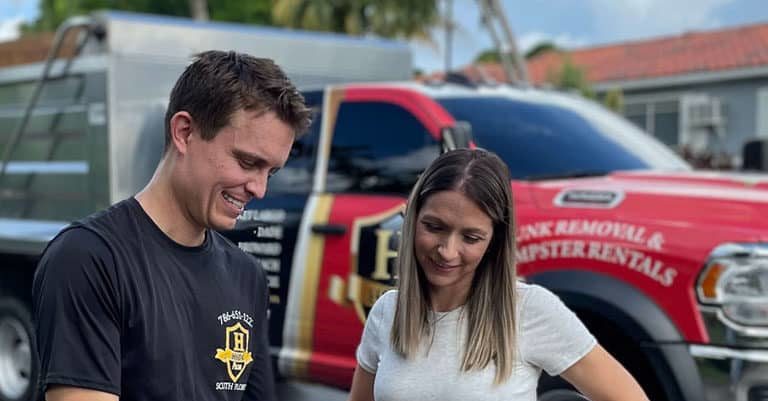 Cost of Fort Lauderdale Junk Removal
Affordable junk removal in Fort Lauderdale, FL doesn't have to be the stuff of daydreams. It's actually a very attainable reality thanks to HSDO Pros Junk Removal. We use an inexpensive volume-based pricing system to determine what you pay us. We'll just estimate how much truck space your junk will use up, then let you know what you'll owe us at the beginning of your appointment. That way, you can agree to our asking price with confidence!
We will never add any hidden fees to your final bill, either. We don't have to "play games" like that because we are a small business that is cheaper to operate than a franchise. Now you know to turn to a local business like us any time you need serious savings on junk removal services in Fort Lauderdale, FL!
How It Works
HSDO Junk Removal is a company that always arrives on time. We'll even give you a courtesy call when we're on our way. That way, you know when to expect us to be there!
Let us review all the junk you want to get rid of so we can prepare an upfront service quote. Simply approve this quote so we can start hauling away all your junk.
Thanks to our full-service crew, you won't have to lift or carry any junk. Just watch as our team does all the work. You'll be amazed at how quickly we can get the job done.
After we have confirmed that we didn't forget any junk, we will request your payment. Finally, we will get out of there so we can dispose of all the junk!
House Clean Outs in Fort Lauderdale, FL
Cleaning out an entire house is a big job. You'd probably rather not have to deal with this sort of work at all. However, when moving out, handling the estate of a loved one who passed away, or acquiring a foreclosed property, a house clean out may be necessary. Don't forget that HSDO Pros Junk Removal can handle the bothersome work of a full property clean out for you. We will go from room to room, cleaning out whatever junk we find. This includes not only small items, such as clothing, toys, and old decorations, but larger items as well, including old furniture and broken appliances. We are willing to clean out even the tightest and most cramped spaces of the house, from the basement to the attic! Once we have hauled away all the junk, we will sweep up behind ourselves, too. That way, the house is spotless, and there won't even be dust bunnies hopping around to ruin that for you.
About Us
HSDO Pros Junk Removal is always prepared to take on a junk removal project, whether that means heading over to Fort Lauderdale or any of our other service areas. Wherever you are, you're our neighbor, and we want to make your life easier! By letting us haul away your junk, you'll save precious time, and you won't have to exhaust yourself doing the work on your own, too. Plus, who doesn't want to have a clean property? Get that junk out of sight and out of mind by contacting us, your local junk removal business, today! We can't wait to be at your service.
What Are You
Looking For?