Junk Removal Services in

Kendall, FL

When you need to get rid of junk in Kendall, call HSDO Junk Removal Pros!
Junk Pick Up and More!
The Kendall area is located in Miami-Dade County. Enjoy a day at the Dadeland Mall or see the sights using the modern Metrorail transportation system. There are plenty of things to do, and easy ways to move quickly between them! But when it comes to settling down at home after a long day, nothing can dampen your mood quite like looking at a pile of junk you've been meaning to deal with for a while now but just haven't found the time. There's no need to let it cause you additional stress because when you need junk removal services in Kendall, FL, there's a local, professional solution standing by to help!

When you contact HSDO Pros Junk Removal, you can rest assured you're in good hands. Our experienced team is available 7 days a week to help you with your junk removal solution. Whether you need junk furniture removal, full apartment junk removal, or anything in between, we can help! Contact us today to learn more!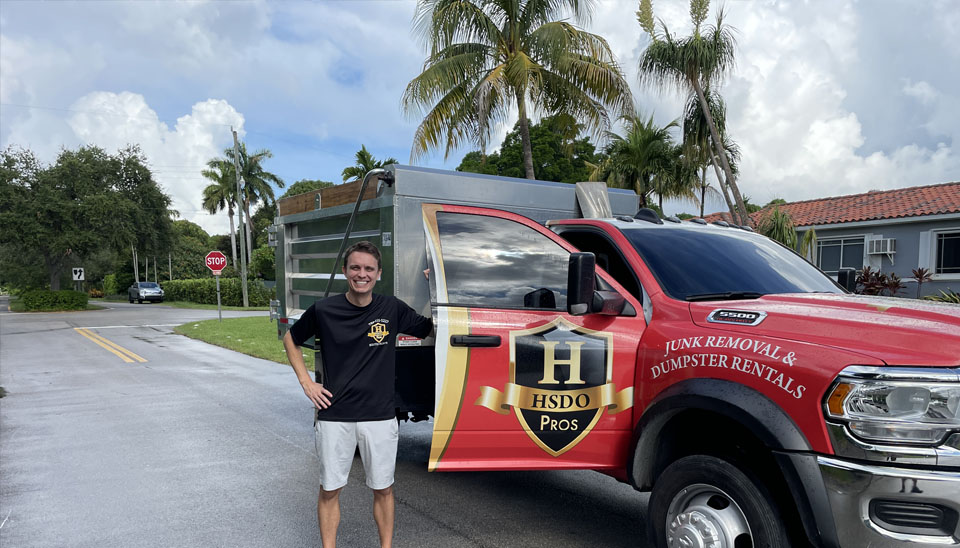 Why Us?
Since the area's development in the late 1800s, Kendall has grown from one businessman's investment to the home and livelihood of many thousands of people. As we all move through our daily lives, many of us are looking for ways to make our and our neighbors' lives just a little bit easier. This can be as simple as ensuring responsible junk disposal! If you've got junk you're not sure what to do with, give HSDO Pros Junk Removal a call! We're dedicated to helping our neighbors in Kendall reclaim their spaces one junk hauling appointment at a time! Additionally, whenever we take your junk away, you can know you made the right choice for you and the greater Kendall area, because we recycle and donate as many materials as we can. 
With HSDO Pros Junk Removal, we can work together to strengthen our community one junk pick up at a time! When you need junk removal services in Kendall, you know who to call!
Our Junk Removal Process
Every junk removal appointment begins with a conversation. HSDO Pros Junk Removal is available online or by phone to book your appointment and answer all your questions! We have operating hours 7 days a week for your convenience. Just describe your junk, and we'll give you a rough cost estimate!
During your appointment time, our team will show up on time and ready to get to work. We can't wait to introduce ourselves to you so you can introduce us to the mess! Once we have eyes on the junk, we'll give you a firm and final quote for service. We never start working until you've agreed to the price!
With your go ahead, our team will get right to work lifting and hauling all your old items to our truck. Our team ensures a swift and professional loading experience! We've done this hundreds of times, meaning we won't drop or mishandle items. In fact, we'll even sweep up behind ourselves to make sure your space looks great!
Finally, we'll settle the bill with you. You'll find that the price you pay is exactly the same as the price quoted at the beginning of your appointment. After that's done, our team will haul your junk away and ensure proper disposal!
Construction Debris Removal in Kendall
Improving your home or business is a fun, adventurous endeavor. From the planning stage to watching your vision take physical shape, it's a rush! But nothing puts a damper on that sense of accomplishment like cleaning up materials and debris in the aftermath. When researching debris removal companies, it can be difficult to discern who takes what, and how they dispose of it. Fortunately, HSDO Pros Junk Removal offers a construction debris removal service, and our practices are transparent from beginning to end! Not only are our volume-based prices affordable and easy to understand, but we ensure proper disposal of all materials! When you need debris removal in Kendall, trust the pros: The HSDO Pros!
About Us
Based out of the Florida counties of Dade and Broward, the HSDO Pros Junk Removal team is a group of professionals that loves to help their community with top-quality junk removal! We even offer dumpster rentals upon request. No matter what kind of junk mess you need cleared out, our crew is here to help! We hold operating hours every day of the week because we know junk can strike at any time. In addition to our quick response time, our volume-based pricing model ensures that every junk removal is priced both fairly and affordably. Since we're a local business, you'll never have to deal with any hidden overhead fees. We charge you for the work done and not a penny more! When you need junk removal services in or around the Miami-Dade area, call your local experts at HSDO Pros Junk Removal!
What Are You
Looking For?